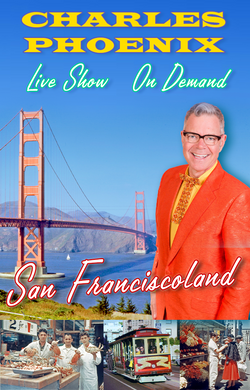 San Franciscoland - Watch On Demand
Charles Phoenix Presents San Franciscoland
WATCH on demand unlimited for 10 days.
A BIG RETRO Dream Vacation Slide Show Celebrating the City by the Bay.  
Start spinning "I Left My Heart in San Francisco" and simmering the Rice-A-Roni! "  
San Franciscoland is a mad-cap, mid-century adventure extravaganza exploring the city in the 1940s, 50s, & 60s like it's a great big theme park!  
Experience classic tourist attractions, unique architecture, lost and found treasures, fun fashions, themed environments, the sophisticated elegance of cosmopolitan hotels, restaurants, and bars … plus a SPECTAULAR trip to San Francisco's EPIC 1940 World's Fair on Treasure Island … and more lore galore.   
Be prepared for your imagination to be inspired and your San Francisco lovin' spirit to soar like never before!  
Once you purchase your ticket you will receive an email receipt confirmation.
You will receive an additional email with your ticket link. If you do not see your ticket link please log in to your charlesphoenix.com account and click your order for the link.
The show is coming to you! Anywhere you can stream video or watch YouTube via cell or internet service is where you can watch the show!
Please feel free to contact [email protected] for any questions.