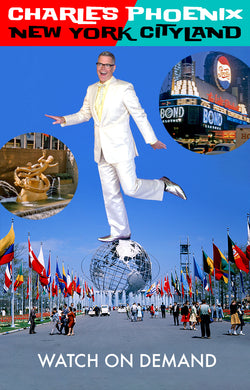 New York Cityland - Watch On Demand
Charles Phoenix Presents: New York Cityland  
Watch On Demand Unlimited
A Feature Length BIG RETRO Online Slide Show Celebrating the Big Apple in the 1950s & 60s.  
Start spreadin' the news …  Charles' latest dream vacation slide show celebrates the marvels of mid-century Manhattan and the futuristic 1964 New York World's Fair. 
Lavishing commentary on spectacular vintage images from his massive collection of Kodachrome slides taken by tourists, he'll sweep you away on a whirlwind time-travel adventure extravaganza.
Experience NYC's big city style, legendary landmarks, iconic modernist architecture, Greenwich Village art scene, Bright lights of Times Square, famous foods, marvelous museums, colorful Coney Island, subways, boats, buses, yellow cabs and more galore!
The grand finale is a trip exploring the not-to-be-missed attractions of the 1964 World's Fair!
Be prepared for this festive, fun-filled, family-friendly show to inspire your imagination, and you're love for New York to soar like never before!
TICKETS:
Once you purchase your ticket you will receive an email receipt confirmation.
You will receive an additional email with your ticket link to view the show.
This show is coming to you! Anywhere you can stream video or watch YouTube via cell or internet service is where you can watch the show!
Please feel free to contact [email protected] for any questions.