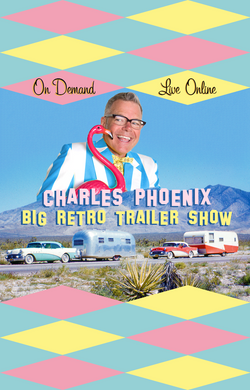 Big Retro Trailer Show - Watch On Demand
Charles Phoenix Presents The Big Retro Trailer Show 
Slide Show Celebrating the Wondrous World of Mid-Century Mobile Homes and Travel Trailers 
Watch unlimited until for 10 days
Running Time: 1hr 55min
Be prepared for your vintage trailer appreciation to skyrocket!   
With his infectious enthusiasm, keen expertise and eagle eye for oddball detail, Ambassador of Americana, Charles Phoenix explores the leisure life and style of vintage trailers, trailer travel, trailer parks and trailerites in the 1950s and 60s.  
Lavishing commentary on the very best images from his massive collection of vintage "flea market found" Kodachrome slides, he shares a wide variety of trailers from classic canned hams to luxurious mobile homes, the backstories of Shasta, Spartan and Airstream, and the EPIC story of the lone surviving, famous "Long, Long Trailer."   
There will also be terrific trailer décor, colorful classic cars, festive fashions, pot lucks, parties, parades, picturesque locations, a few oddities and more galore! 
Your imagination will be inspired and your spirit will soar!   
Once you purchase your ticket you will receive an email receipt confirmation.
You will receive an additional email with your ticket link for the show. If you do not see your ticket link please log in to your charlesphoenix.com account and click your order for the link.
The show is coming to you! Anywhere you can stream video or watch YouTube via cell or internet service is where you can watch the show!
Please feel free to contact [email protected] for any questions.