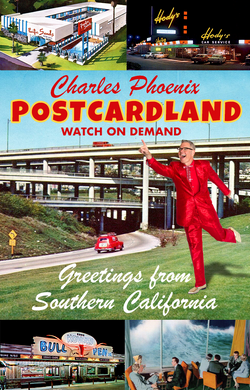 Postcardland - WATCH ON DEMAND
Charles Phoenix Presents: Postcardland - Greetings from Southern California
A Fun, Feature Length BIG RETRO Online Slide Show Celebrating Vintage Postcards from the Land of Plenty!   
Wish You Were Here! 
Charles' latest madcap mid-century time-travel adventure is his love letter to the picture-perfect postcards of colorful Southern California in the 1950s & 60s. 
"I began collecting postcards way before I collected slides." says Charles. "After decades of creating shows with vintage Kodachrome slides shows this is the first time I've curated a show of postcards … and it's about time!"  
With his keen expertise and undeniable enthusiasm, Charles reveals stories and glories of SoCal's famous tourist attractions, themed environments, swanky hotels, motels, restaurants, and bars, smart shops, stores, and shopping centers, fairs, festivals, pageants, parades, and more SO much more galore! 
Be prepared for this fun, family-friendly show to inspire your imagination, and make SoCal lovin' spirit to soar!   
TICKETS:
Once you purchase your ticket you will receive an email receipt.
You will receive an additional email with your ticket link to view the show.
This show is coming to you! Anywhere you can stream video or watch YouTube via cell or internet service is where you can watch the show!
Please feel free to contact [email protected] for any questions.